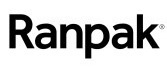 This is Ranpak
Ranpak is the global leader of sustainable in-the-box packaging solutions. We are committed to the environment, customer needs and innovation by providing environmentally friendly, cost-effective and versatile solutions for the packaging industry. With a growing dependency on plastic and a growing negative impact on our environment, we help businesses and the world thrive together by bringing supply chains in balance with the environment and deliver protective packaging solutions that are good for the world, and good for the bottom line.
Ranpak's solutions deliver a better world by only using 100% recyclable, renewable and biodegradable materials. Our solutions deliver bottom line improvements to customers by offering superior protection against damage when goods are moved in the supply chain and while reducing the total cost of ownership in the customer's packaging processes. Our automation technologies and innovative culture also deliver solutions for the increasingly demanding needs of our customers. While paper is 5000 years old, what we do with it is cutting-edge.
This is the position
The Purchasing department is searching for a Technical Buyer. In this job you have to
purchase, coordinate, expedite and schedule the flow of materials, parts and assemblies between various departments and plants within budget and demanding time schedules.
Essential Duties & Responsibilities
Get competitive quotes and purchase materials, parts, subassemblies, machine fabrications and other commercial components
Source, visit and select approved fabricators and suppliers, sub assemblers
Expedite purchase orders for timely deliveries
Negotiate discounts, terms and delivery cycles with suppliers and fabricators
Strategically plan supplier deliveries to meet demanding project schedules
Use the ERP system to effectively order parts and control inventory levels
Research and suggest alternative suppliers
Internet sourcing, selection and ordering
Work with quality, operations and suppliers to correct defective material problems and reported delays
Work with suppliers to find alternative solutions
Assist inventory personnel with adjustments and corrections
Assist accounting with invoice problems and corrections
Assist and liaise with the operations team in evaluating and processing quotes and in other requests
Qualifications
Bachelor's degree and related experience and/or training.
International sourcing experience a plus.
Proficient in Microsoft Office.
Experience using an ERP system.
Ability to read and understand engineering drawings.
Ability to define problems, collect and analyze data, establish facts, and draw valid conclusions.
Good communication skills, spoken and written
Pro-active attitude, ability to work independent (self-starter) and as part of a team
Good oral and written command of the Dutch and English language (German is an advantage)
This Is What We Offer
You will join a growing and ambitious organization. This position is strategic for the success and development of Ranpak. It is an opportunity to prove yourself in your professional skills in challenging and exciting times and a chance to work with a company with a strong purpose. We are part of a global organization with a highly sustainable product giving a positive impact to our world.
The Technical Buyer will join our Ranpak colleagues in Heerlen, The Netherlands and reports to the Lead Buyer. Would you like to join us to together Deliver a Better World? Apply…
Send your application letter and CV to
eu.jobs@ranpak.com
---