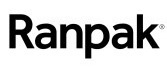 This is Ranpak
Ranpak is the global leader of sustainable in-the-box packaging solutions. We are committed to the environment, customer needs and innovation by providing environmentally friendly, cost-effective and versatile solutions for the packaging industry. With a growing dependency on plastic and a growing negative impact on our environment, we help businesses and the world thrive together by bringing supply chains in balance with the environment and deliver protective packaging solutions that are good for the world, and good for the bottom line.
Ranpak's solutions deliver a better world by only using 100% recyclable, renewable and biodegradable materials. Our solutions deliver bottom line improvements to customers by offering superior protection against damage when goods are moved in the supply chain and while reducing the total cost of ownership in the customer's packaging processes. Our automation technologies and innovative culture also deliver solutions for the increasingly demanding needs of our customers. While paper is 5000 years old, what we do with it is cutting-edge.
This is the position
The Marketing department is searching for a New Business Development Manager. In this job you have to strongly accelerate the growth in targeted new market segments, such as retail and cold chain and develop them into large profitable new business segments. Your task is also to identify and quantify new potential segments and develop them into new market segments of significance.
Essential Duties & Responsibilities
Market segment analysis: provide quantitative and qualitative intel on the size and needs of (sub)segments
Value chain analysis: analyze full the value chain and identify value creation opportunities
Competitor intel: map relevant competitors and provide intel on their painpoints, price levels, route to market, etc
Voice of Customer: perform voice of the customer surveys to define detailed segment needs and requirements of end-users as well as channel partners
Product assortment & roadmap: define required assortment and new product requirements for targeted new segments. Justify new product requests with business cases and ensure execution of prioritized NPI's
Route to market: propose best route to market to maximize value capture
Value proposition: define compelling value propositions for set target customers
Pricing: understand the value of Ranpak's offering and based on this set a pricing strategy for the segment offering
Commercial: discuss and negotiate prices with identified target customers and ensure sufficient commercial alignment with the sales organization
Budgeting & forecasting: set ambitious sales targets and ensure realization of turnover and margins
Marketing/brand awareness: supporting building marketing plans to boost brand awareness and brand preference
Qualifications
Master level in Business Administration or Business Engineering
Self-driven, energetic, inquisitive and persistent leader
Get things done, driven by commercial opportunities
Experience in Retail sales or new business development is a must
Team player with good communication skills internally and externally
Able to negotiate with different levels
Fluent verbal and written communication skills in Dutch, English and preferably German
This Is What We Offer
You will join a growing and ambitious organization. This position is strategic for the success and development of Ranpak. It is an opportunity to prove yourself in your professional skills in challenging and exciting times and a chance to work with a company with a strong purpose. We are part of a global organization with a highly sustainable product giving a positive impact to our world.
The New Business Development Manager will join our Ranpak colleagues in Heerlen, The Netherlands and reports to the Marketing Director. Would you like to join us to together Deliver a Better World? Apply…
Send your application letter and CV to
eu.jobs@ranpak.com
---